Back to top
Therapeutic Oligonucleotides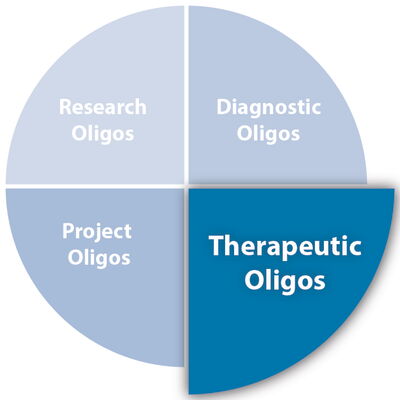 Microsynth is a leading provider of therapeutic oligonucleotides. We offer a comprehensive range of custom synthesis and manufacturing services to support the development of novel nucleic acid-based therapeutics.

Microsynth's therapeutic oligonucleotide synthesis services leverage the latest advances in nucleic acid chemistry and delivery technologies to provide customized solutions for therapeutic oligonucleotide development. With a state-of-the-art facility and a team of highly experienced scientists, Microsynth offers a wide range of services, including:


Custom Design: Microsynth's experienced scientists can help design oligonucleotides with desired properties, including sequence optimization, modification, and conjugation.
Synthesis: Microsynth offers high quality, high throughput oligonucleotide synthesis services to deliver custom oligonucleotides at various scales.
Purification: Microsynth's purification strategies are carefully tailored to this class of compounds, ensuring that each ASO and siRNA undergoes an optimized purification process. This approach effectively minimizes the potential for toxicity and unwanted immune responses in vivo, thereby enhancing the overall safety and efficacy of the molecules.
Scale up: We offer a comprehensive range of products from screening scale ASOs and siRNAs to hundreds of milligrams of low endotoxin ASOs and siRNAs that are specifically designed for preclinical in vivo studies.
Quality Control: Microsynth's quality control process ensures that each oligonucleotide synthesized meets strict quality and purity standards, ensuring reliable and effective therapeutic outcomes.

Our strong commitment to quality, innovation, and customer service makes Microsynth your ideal partner for the development of therapeutic oligonucleotides.