Back to top
Clone & Sequence Service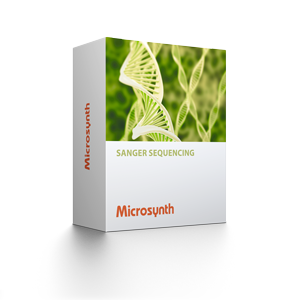 One-stop genomic service for cloning and sequencing of PCR products. Microsynth is able to take care of initial PCR design/amplification, the subsequent cloning step in E.coli as well as final verification of sequences by Sanger sequencing. If desired, we can send back the isolated plasmids in larger amounts and transfection grade purity.
Features and Benefits
One-Stop Solution
Strong expertise in PCR design and testing
Purification and cloning of PCR fragments in E.coli (blunt-end or TA-overhang approach)
Selection and picking of the desired amount of clones
Sanger sequencing and detailed reporting
Shipment of the selected clones and/or plasmids (up to transfection grade, scalable up to 10 mg)
Service
PCR amplification of heterogeneous biological samples results in a heterogeneous mixture of PCR products (e.g. ribosomal 16S PCR generated from stool or soil samples). In order to be able to sequence individual PCR products by DNA Sanger sequencing, it is first necessary to clone them. At Microsynth, we are able to perform the entire process of cloning and sequencing, no matter how many clones your sequencing project may require. If you need the plasmids back Microsynth will carry out the DNA isolation for you.
Best-approach consulting
Beyond Sanger DNA sequencing, we are also able to offer you comprehensive next generation sequencing services. In general, a next generation sequencing approach allows circumventing the cloning step and becomes economical with increasing number of samples and throughput requirements. Please contact our experts to figure out which approach best fits your needs.
How to Order
When you collaborate with Microsynth, we share our experience and knowledge, respond to your needs in a timely manner and give you undivided attention.
Contact
our application specialists to discuss your next clone and sequence project in detail to get an attractive quote!