Back to top
Project Oligonucleotides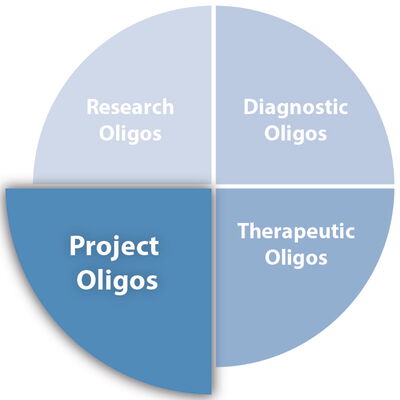 At Microsynth, we pride ourselves on being your reliable partner for all your custom oligonucleotide needs. Backed by our team of dedicated scientists, we are committed to not only meeting but exceeding your specific requirements and expectations.

If your oligonucleotide project goes beyond a standard web order, we invite you to engage in a discussion with us. We are fully aware that each research or commercial goal is unique, and we are here to provide you with a customized project proposal that perfectly aligns with your objectives.

With extensive expertise in a wide range of custom oligo projects, we work closely with our customers to deliver exceptional results. Our highly skilled team, coupled with our state-of-the-art infrastructure, will be of great assistance to you. Our extensive knowledge, experience, and resources mean we can provide you with tailored solutions that precisely match your specific research or commercial goals.

Expertise and Platforms: Your project will be handled by our team of oligonucleotide and process scientists, who possess a strong background in oligonucleotide chemistry. Having worked extensively to establish and optimize various synthesis platforms, they will leverage single or combined platforms to ensure your project is managed in the most efficient way.

High Quality and Consistency: With over 30 years of experience in oligonucleotide production, including synthesizing therapeutically active compounds, we prioritize quality above everything else. Our processes are meticulously optimized to achieve the highest level of quality for your project. Microsynth is ISO 13485 certified and accredited by the Swiss Medical Institute, which further demonstrates our commitment to excellence.

Tailored Project Management and Fast Turnaround: Our flat hierarchical structure ensures that project scientists are involved in every phase of your project, providing seamless end-to-end support. With a single point of contact, we offer straightforward, customer-focused project management, and ensure consistent and clear communication throughout the entire process.

You can trust Microsynth to be your partner of choice for all your custom oligonucleotide projects. Together, we will unlock the full potential of your research or commercial endeavors.