Back to top
Premium Run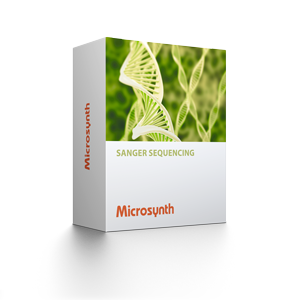 Individualized Sanger sequencing service in 1.5 ml tubes which includes comprehensive technical support and troubleshooting. This service is especially suitable for customers aiming at the best possible results along with superior service.
Features and Benefits
Highest Quality
DNA sequencing read lengths up to 1'100 bases or more in Phred20 quality
Quality assurance statements ISO/IEC 17025:2017 (STS 0429)
Comprehensive Convenience Package
Reaction conditions are optimized specifically for your sample
3 months storage of the samples. Further sequencing reactions on the same sample can be ordered within this time
Up to 10 months storage for ordered and enclosed sequencing primers
Locate a drop box or pick-up service near you for free shipping
Possibility to fine-tune sequence software analysis parameters (e.g. IUPAC base calling, sequence trimming) to achieve your desired performance
Environmentally-Friendly Sample Pick-Up
Your sequencing samples are predominantly shipped using environmentally-friendly transport vehicles (train, bicycle)
Extended Technical Support & Troubleshooting
In case of failed or poor sequencing results, we will contact you to suggest next steps to solve the issue.
Several dedicated protocols are available to decode even challenging sequences (see Additional Services for more info).
User-Friendly Online Ordering System
Easy-to-use online shop with lots of useful tools
Primer management tool to define your customized primer list
Group management tool to share primers among group members
Additional Services
Continuous optimization of our Sanger capabilities over the last 30 years has resulted in protocols that are able to sequence difficult or even very difficult DNA templates with a success rate of over 98%.
Sequencing of Large Constructs
Over the years Microsynth has developed robust methods for the sequencing of large DNA constructs such as BACs, cosmids and fosmids. Please choose the DNA type accordingly in our webshop.
One-Drop Sequencing
Microsynth's one-drop sequencing service allows you to sequence a plasmid when you don't have sufficient amounts of DNA. By applying this type of service, we are able to perform sequencing if you provide us with as little as 50 ng in at least 1 µl of your sample. This procedure takes one additional day.
DNA Preparation from E. coli
Single Plasmid Preparation Service
You send us your E. coli samples as single colonies on agar plates. We pick the desired number of clones and take care of isolation and sequencing. Plasmids, isolated on demand, will be sent back to you, if requested in higher scales (midi/maxi).
Please Note:
E. coli cultures arriving at the sequencing lab before 12:00 am will be picked the same day. Plasmid preparation takes only one day. Therefore, the first sequencing results can be expected usually after 2 working days.


DNA Purification
Purification Service for PCR Products
PCR primers and leftover dNTPs are removed from your PCR reactions. Please be aware that this purification service does not separate individual PCR fragments!
DNA Extraction from Agarose gels
Plasmids or PCR fragments can be sent within a piece of agarose gel. Microsynth will take care of purification and sequencing.
How to Order
Procedure to use our Premium Run for sequencing:
Enter our webshop
Click on Fill Order Form under "Premium Run" area and follow the further instructions
See also Microsynth's user guide on the right side for more detailed information.