Back to top
DNA/RNA Oligonucleotide Synthesis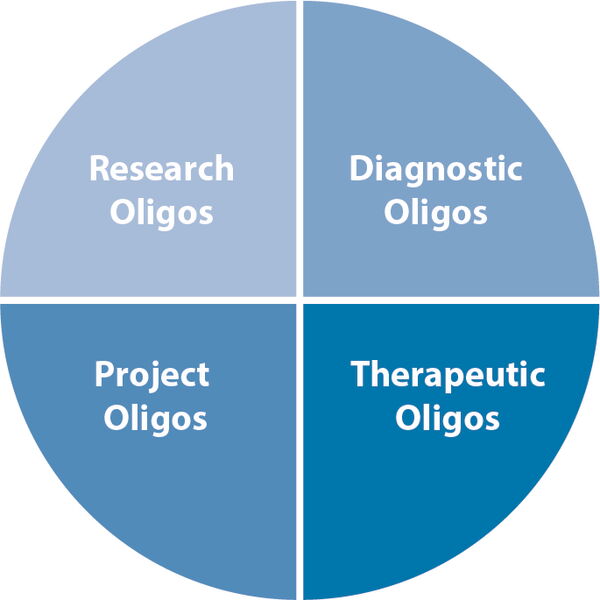 Microsynth specializes in four distinct areas of oligonucleotide products, each of which is tailored to specific applications:
Research Oligos: Our comprehensive range of research oligos is designed to support cutting-edge scientific investigations, enabling researchers to advance their studies with confidence and precision.
Diagnostic Oligos: We offer a wide range of diagnostic oligos that are carefully engineered to meet the stringent requirements of diagnostic applications. These oligonucleotides play a critical role in the accurate detection and identification of genetic variations and disease markers.
Therapeutic Oligos: Microsynth is at the forefront of manufacturing oligonucleotides for the development of antisense therapeutics. These offer immense potential for precision medicine. Our innovatively designed and optimized synthesis platforms are paving the way for novel oligonucleotide modalities aimed at targeted therapies and personalized medicine.
Project Oligos: Our expertise extends to custom oligonucleotide projects, where we work closely with our customers to meet their unique research or commercial goals. Whether it's custom sequences (building blocks) or highly modified oligonucleotides, our team of skilled professionals and state-of-the-art infrastructure deliver tailor-made solutions.
In all four areas, our success is based on optimized synthesis platforms, highly specific workup and purification protocols, the expertise of our highly experienced and well-trained staff, and the integration of highly automated production systems. In addition, our stringent purification methods and advanced analytical tools ensure the highest levels of quality and reliability for our oligonucleotide products.
At Microsynth, we are dedicated to pushing the boundaries of oligonucleotide science and providing our customers with exceptional products and services that will help drive advances in research, diagnostics, therapeutics and custom projects.