Back to top
Microsynth – Your Partner at Every Stage of the Project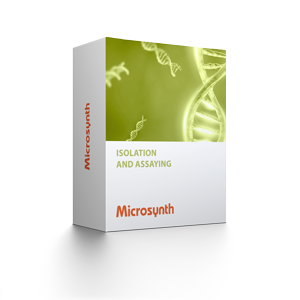 Microsynth, a leading provider of molecular biology services, offers a broad range of PCR services and products. More than 20 years of experience with customer projects of any size, our in-depth understanding of DNA/RNA quantification as well as our in-house production facility for primer & probes qualify Microsynth as your partner of choice for the development and validation of any PCR-based assay. Microsynth is also a competent and reliable partner for the subsequent testing phase, regardless of scale.
Features and Benefits
Experienced
Strong experience in digital PCR and qPCR assay design and development for various applications
qPCR and digital PCR assays (singleplex or multiplex) with proven functionality! We design, synthesize, and test your primer set(s) for their PCR performance (includes comprehensive wet lab testing using a specific positive control as well as a no template control).
Optimal functionality: we design, synthesize, and test your primer set(s) for their PCR performance
Assay validation according to

ICH guidelines

on demand
Contract testing on demand
Satisfied customers from all over the world. Ask us for references.
Cost Effective and Fast
Knowledge and technology available to develop, validate and produce every-thing in-house.
Functional singleplex assays for R&D (>1'000 PCR reactions) are delivered within 2-3 weeks after the order.
Convenient
High degree of customization: From highly modified probes to the adequate degree of compliance to relevant regulations and guidelines, your project will be customized to your needs.
Useful toolbox in complementary analytical platforms (Sanger, NGS, isolation of nucleic acids), all operated in-house
In-house production facility (ISO 13485 certified) for synthesis of primer-probe sets meeting the highest requirements (MGB, LNA, propynyl bases, etc.)
Easy publishing due to compliance with

MIQE guidelines

(full transparency with respect to sequence information of used primer and probes)
Assay Development
qPCR/dPCR Assay Development
Microsynth offers the fast and reliable development of custom, MIQE-compliant qPCR or digital PCR assays. Upon forwarding us your target sequence or accession number, Microsynth will deliver your singleplex assay within a 2-3 weeks' time frame.
For multiplex assays we will develop a tailored strategy to meet the customer demands. The first step comprises a feasibility study, followed by the development of the specified multiplex assay including comprehensive wet lab testing.
See also our contract research/outsourcing website for further information!
Available Assay Types:
Assay Validation
Assay Validation
The Microsynth team has more than two decades of experience in validating assays. According to your requirements, we develop reliable, fit-for-purpose methods in a cost-effective manner to validate your assay. The validation is performed in compliance with appropriate regulations (e.g. ICH Q2(R1)) to assess accuracy, repeatability, intermediate precision, assay range, dilutional linearity and specificity.
Biologics Testing
Biologics Testing
Comprehensive (high-throughput) qPCR or digital PCR analysis service for essentially all common assay types (e.g. TaqMan, SYBR green, FRET). The full service includes nucleic acid isolation, assay design and validation, target detection and data analysis including normalization with internal controls.