Back to top
Diagnostic Oligonucleotides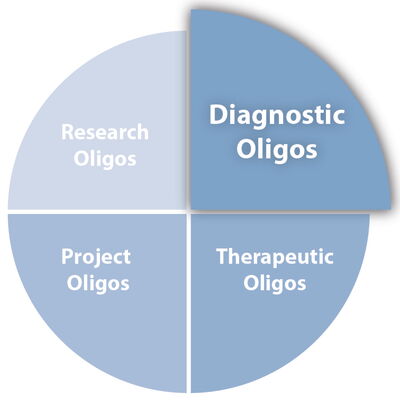 Microsynth is a leading provider of high-quality diagnostic oligonucleotides. We offer a wide range of custom synthesis and manufacturing services to meet the needs of clinical diagnostics, research laboratories and kit manufacturers. Microsynth's diagnostic oligonucleotide synthesis services are certified to the ISO 13485 quality management standard, which ensures we are fully compliant with the strictest regulatory requirements for medical device manufacturing.




Some of the key diagnostic oligonucleotide services offered by Microsynth include:



Custom Design: Microsynth's highly experienced scientists can assist you in the design of oligonucleotide probes and primers that are specific, sensitive, and reliable for the intended diagnostic assay.
High-throughput synthesis: Microsynth's high-throughput oligonucleotide synthesis platform enables the rapid production of large quantities of custom oligonucleotides characterized by high quality and purity.
Scale-up: It is possible to scale up to diagnostic assay production of tens of µmol.
Modification: Microsynth offers a wide range of modifications to standard oligonucleotides that can enhance their performance in diagnostic applications. This includes fluorescent dyes, quenching agents, and other chemical modifications.
Quality Control: Microsynth's comprehensive quality control process ensures that each oligonucleotide synthesized meets strict quality and purity standards and ensures reliable and accurate diagnostic results.


Our strong commitment to quality, innovation, and customer service means that Microsynth is a trusted partner for diagnostic oligonucleotide synthesis. We deliver solutions that enable the faster, more accurate, and efficient diagnosis of diseases.