Back to top
Small and microRNA Sequencing
Use small RNA sequencing to:
Study the influence of non-coding RNA on gene expression patterns
Discover new regulatory elements and processes
Small RNA Seq is the companion of RNA Sequencing from basic research to new therapeutic approaches.
Overview
Considerations before starting a small RNA Sequencing project:
Small RNA fraction, expected sizes?
Sample types (Serum, cell types, tissue)?
Sequencing depth (sensitivity)?
Replicates (confidence)?
Novel and or known small RNA types?
Model organism or no database entries available?
Let us guide you – from design to analysis
Example projects using small RNA Sequencing:
Posttranslatory regulation studies
Discovery of new regulatory elements
Conditional biomarker detection
Functional experiments to uncover gene regulation
Part of an omics charcterization
Drug discovery/ drug target screens/ novel therpeutics
Discovery of new non coding regulatory RNA
Tissue specific piRNA and miRNA effects
Applications related to small RNA Sequencing:
Workflow
A typical workflow for a small or miRNA project is shown in the graphic below. Please note that our highly-modular processes allow you various entry and opting out options. If you outsource your entire NGS project to Microsynth or only parts of it is up to you.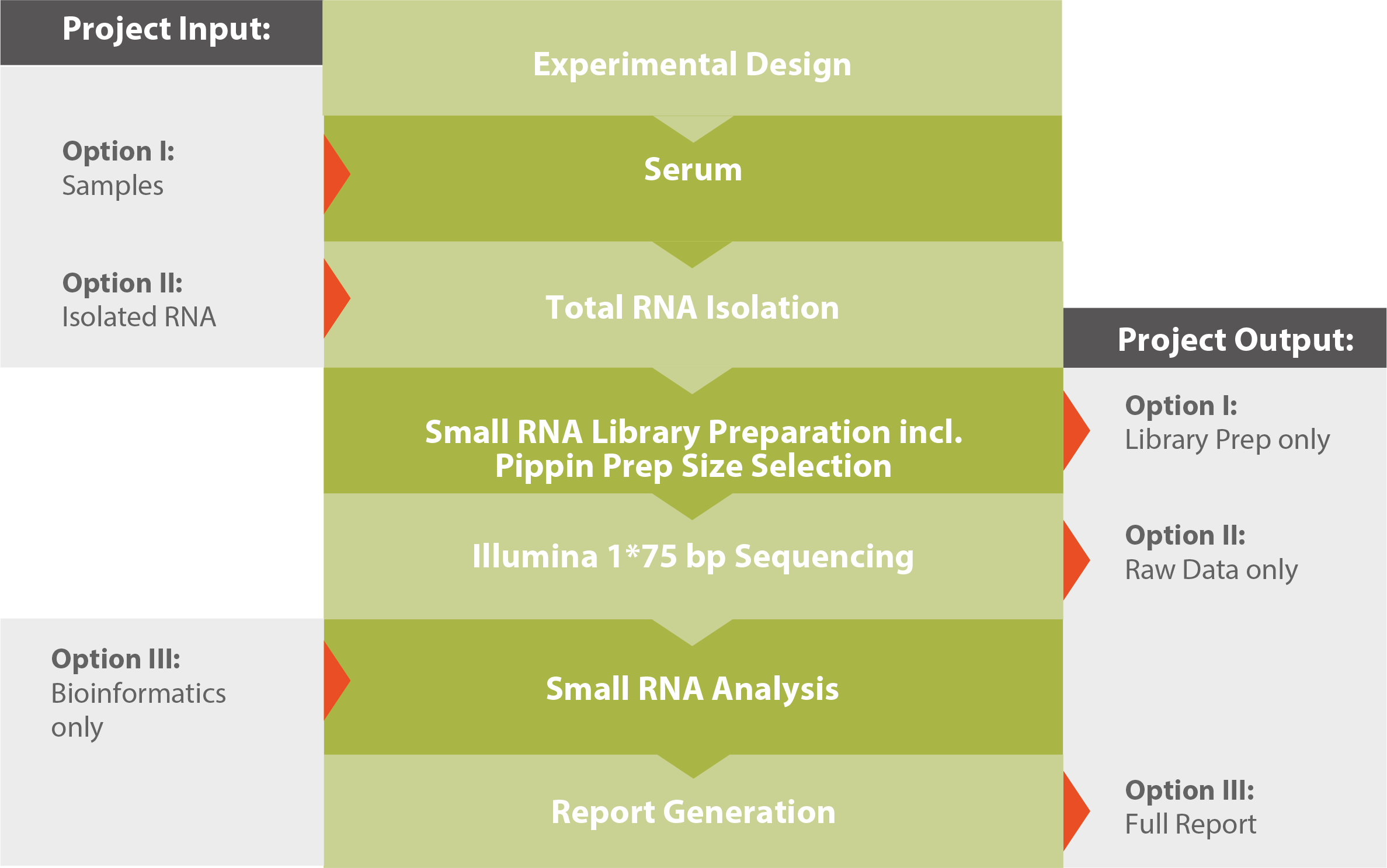 For further reading and a detailed technical description, please download our Application Note Small RNA Sequencing (see related downloads).
Results
Turnaround Time
Delivery of data within 25 working days upon sample receipt (includes library preparation and sequencing)
Additional 10 working days for data analysis (bioinformatics)
Express service possible on request