Back to top
Story
2017
Microsynth starts with contract manufacturing of antisense oligonucleotides for drug discovery.
2016
First clinical research studies under ICH guidelines are outsourced to Microsynth.
2015
To combine the knowledge built in the different departments and to use it for larger and more complex projects the contract research and outsoucing department is officially launched.
2014
After 25 years at the forefront of the company, Denise and Tobias Schmidheini decide to step back and to hand over the operational management to two longstanding and deserved employees. Christof Wunderlin and Markus Schmid have committed themselves to advance the internationalization and further growth of the company but not neglecting the golden rule of Microsynth doing business in a sustainable and socially responsible way.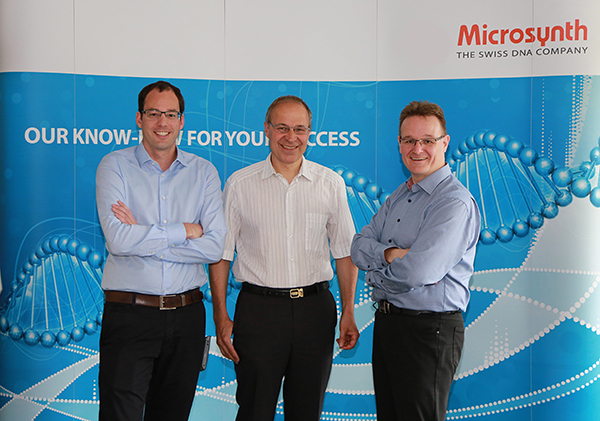 2013
Microsynth merges with Seqlab GmbH in Göttingen to gain better access to the German life science market. Both companies bring together 40 years of experience in the area of DNA sequencing and establish the fastest overnight Sanger sequencing service in Germany. In contrast to its main competitors, an environmentally-friendly courier system (with trains instead of planes as predominant transport vehicles) delivers the samples to the lab in Göttingen.

2012
Microsynth establishes a subsidiary in Vienna, Austria, to grow its market outside of Switzerland. Main focus of Microsynth Austria is to provide fast, on-site & green Sanger DNA sequencing services to its customers. Since its beginning in April 2012, the company is housed in a modern industrial building the heart of Vienna and run by Dr. Lukas Hartl and Bernhard Binishofer.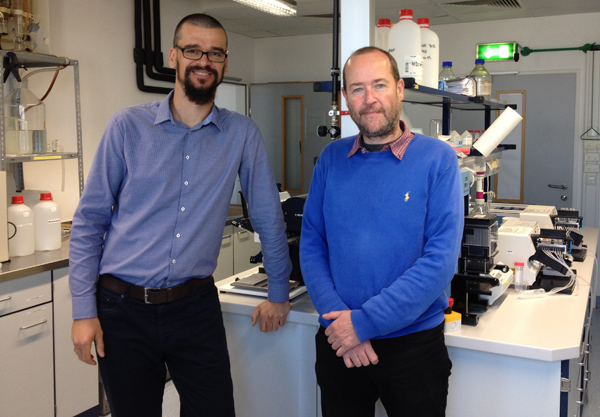 2010
Since customers have all kind of different matrices where it is not always easy to isolate high-quality DNA respectively RNA, Microsynth starts its own DNA/RNA isolation department. That is much more convenient for the customer and we do control a larger part of the process which makes it more robust.
2007
Next Generation Sequencing is the next big thing and Microsynth wants to be part of it. An NGS lab is established at our premises in Balgach.
2004
Microsynth needs more space and so, in addition to the current building, a further 2000 sqm of laboratory and office space is being built.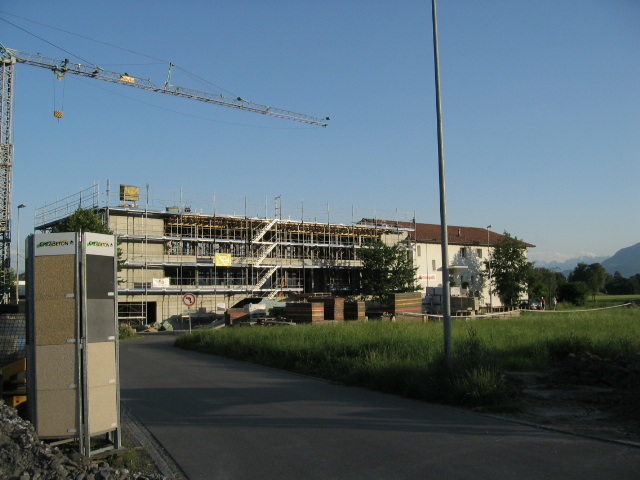 But also in the oligonucleotide synthesis department something is happening. For the first time, RNA oligonucleotides are being synthesized.
1998
Microsynth, constantly growing, is establishing qPCR and genotyping labs.
1989
Denise and Tobias Schmidheini founded Microsynth as a "garage startup" when Tobias was still studying for his PhD at ETH Zurich. When producing oligonucleotides from 5 to 7 a.m. and from 7 to 11 p.m. out of Tobias' single room student accommodation (while simultaneously working at his PhD) he was overcoming a critical bottleneck at that time: Swiss academic institutes and local pharmaceutical industry had to wait up to 3 months for oligonucleotides since DNA synthesizers were limited and ran only from time to time for cost reasons.