Back to top
Oligonukleotide für die Verwendung in IVD oder Molekulardiagnostik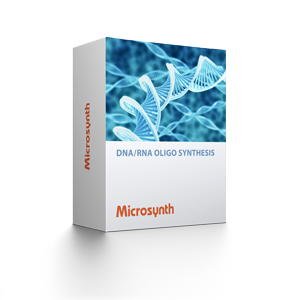 Der Übergang von Oligonukleotiden aus der Forschung zu Anwendungen in der In-vitro-Diagnostik (IVD) - wo die Qualität der Reagenzien einen Einfluss auf kritische medizinische Entscheidungen haben kann - beinhaltet viel mehr als nur herauszufinden, wie man die Produktion hochskalieren kann.
Mit über 30 Jahren Erfahrung in der Oligonukleotid-Synthese und Nukleinsäure-Analytik hat sich Microsynth als zuverlässiger Geschäftspartner für die Auftragsfertigung von Oligo-Komponenten für In-vitro-Diagnostik-Anbieter etabliert. Unsere hochmodernen Labore, qualitativ hochwertige Reagenzien, strenge Qualitätsstandards und vollständig anpassbare Herstellungsprozesse machen Microsynth zum Partner der Wahl für Hersteller diagnostischer Tests.
Features and Benefits
Skalierbarkeit
Alle Phasen der Produktentwicklung werden abgedeckt; kundenspezifische Oligos für die Forschung, Oligos für diagnostische Pilottests oder auch Oligos für molekulardiagnostische Assays, die unter kontrollierten Prozessen hergestellt werden.
Vollständige Prozessrückverfolgbarkeit und Risikominderung
Umfassende Chargenprotokolle
Kontinuierlicher Risikomanagement-Prozess
Tech-Transfer in jeder Phase der Produktentwicklung möglich
Konstante Reproduzierbarkeit von Charge zu Charge
Strenge Produktfreigabekriterien
Professionelles Projektmanagement
Dedizierter fachkundiger Ansprechpartner für die Beratung zu allen Aspekten der Herstellung und Einhaltung von Vorschriften
Regelmäßige Status-Updates
Cost-effective and customized client solution
Customized manufacturing processes (synthesis scale, purification, formulation, QC) as well as documentation across all phases of development
Services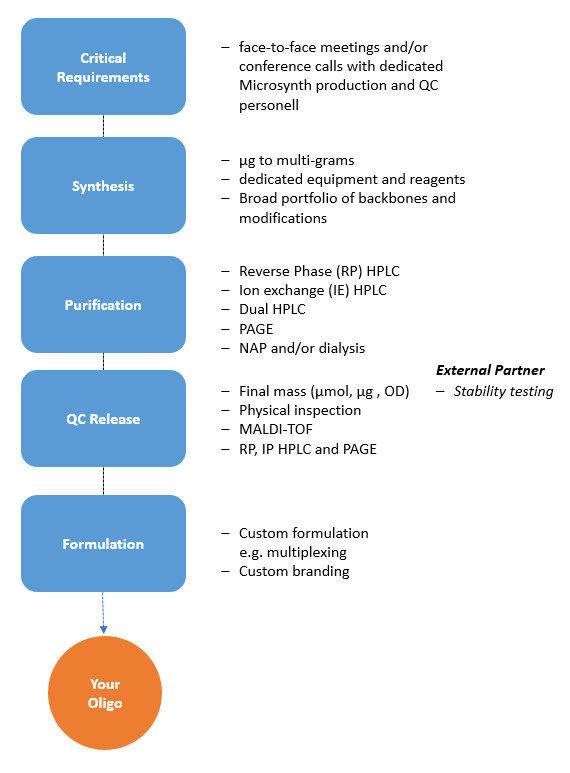 Angebot einholen
Wenn Sie mit Microsynth zusammenarbeiten, teilen wir unsere Erfahrung und unser Wissen, reagieren zeitnah auf Ihre Bedürfnisse und schenken Ihnen ungeteilte Aufmerksamkeit. Sind Sie daran interessiert, Ihren Bedarf an Auftragsfertigung mit einem Experten zu besprechen oder ein Angebot zu erhalten? Dann füllen Sie bitte unser
Kontaktformular
aus.