Back to top
Antisense Oligonucleotides for Early Drug Discovery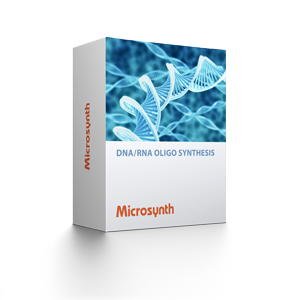 Several oligonucleotide-based drugs have been approved by regulatory agencies (FDA, EMEA) in the past two decades. Antisense and RNAi therapeutics - currently amongst the hottest topics in research and development - are forms of treatments that are clearly distinguished from traditional approaches such as small molecule or antibody-based approaches.
Since they can be directed against a broad variety of RNA targets (premRNA, mRNA, lncRNA, miRNA), they open the door for the treatment of a broad range of diseases, also to those which are considered undruggable on the protein level.




Features and Beneftis

Expertise
well known for >30 years of know-how and experience in the synthesis of modified oligonucleotides
high level of expertise in the synthesis of potential therapeutic agents (ASOs, gapmers, siRNAs) for drug discovery
hands-on know-how in challenging and custom modifications


High Quality and Consistency
Providing comprehensive hands-on expertise in the synthesis of a broad range of ASO chemistries, combined with highly optimized synthesis platforms. The result is oligonucleotides of the highest quality.

Fast Turnaround Times
Overall fast, flexible and reliable service from quote to delivery
Fast synthesis due to high scalability and adaptability of the various production processes
Short turnaround times for synthesis of ASO libraries for screening (µg-mg)


Attractive Prices
Tailor-made and highly automated manufacturing processes create ASOs, siRNAs, and other oligonucleotides for potential therapeutic applications at attractive prices.
Service Offering

Microsynth, well known oligo supplier for more than 3 decades, has developed technical capabilities and expertise for offering a portfolio of therapeutic oligonucleotides, especially suited for leveraging your early drug discovery program in this field.
The following graphic shows the steps of a typical process for the discovery of therapeutic oligos. A list confirming the typical services provided by Microsynth gives you an insight into our extensive service portfolio.



Backbones and Modifications
DNA, RNA, 2' MOE, 2' OMe, LNA, PTO,
2'F, GalNAc, S-cEt (on request)
Purification
• RP HPLC (single and dual)
• IEX HPLC
• Dialysis
Quality Control and Documentation
• Online Trityl monitoring
• MALDI-TOF
• Analytical HPLC
• Various Certificates of Analysis
Available Products
• Antisense oligonucleotides (ASO)
• siRNA
• Anti-microRNA (AMO)
• Aptamers
• CpG oligonucleotides
Get a Quote
When you collaborate with Microsynth, we share our experience and knowledge, respond to your needs in a timely manner and give you undivided attention. Interested to discuss your contract manufacturing need with an expert or to receive a quote? Then, please fill in our
contact form
.